Courses and Workshops
Austria
辦公室風水
4-DAYS MASTERCOURSE WITH
HOWARD CHOY, B. ARCH
Masterclass: Feng Shui
Business Feng Shui - Offices
22. – 25. April 2016 in Vienna
AUTHENTIC FENG SHUI from a Chinese Master
In this Masterclass with Howard Choy we study
the Feng Shui and Design of a modern office.
We bring together the views of the
entrepreneur and the office staff. The
environment affects efficiency & productivity
and decides on a successful career and a
thriving business. We help to create an ideal
and welcoming atmosphere, in order to support
the employer and employees.
We will look at the external and internal factors,
including the following items and more:
1) Building shape and location of main entry
door.
2) Internal door openings and passageways.
3) Qi flow and qi containment within the office.
4) Internal and external visibility.
5) Private v Public spaces.
6) Office and desks orientations.
7) Centre v Heart v Taiji of an office.
8)"Ju Qi" and "Ju Qing" (Assembled Qi and
Assembled Affection)
9) Office structure and group dynamics.
10) Possible synergies.
11) The "Benxing" (the Original Characters) of
an office.
12) Layers for San Cai (Heaven, Earth and
Human)
We will begin the workshop with a brief
introduction on the subject; followed by a on
site visit of our job sample and interview our
clients and work on the Feng Shui analysis using
the San Cai methodology for Feng Shui analysis
and planning. During the workshop we will
teach how different layers of Feng Shui are
influencing the environment and the people
working there and shall arrive at a set of
suggestions that are optimal and of the same
time suitable for individual requirements. We will
use both the Form and Compass School
methods; therefore some knowledge of Feng
Shui basics is desirable.
This Masterclass provides an unique opportunity
to observe up close and learn from an
experienced teacher, the intricacies and
"craftsmanship" in the application of classical
Kanyu Feng Shui. You can look forward to a
demanding and hands-on workshop with a
pleasant atmosphere of a small size study
group, up to a maximum of 14 participants. All
teaching will be done in English with German
translation and at the end of the workshop you
will receive a Certificate of Attendance from
the European College of Feng Shui (ECOFS).
Feng Shui Practitioner from different schools are
welcome!
April 22th – 25th, 2016
Fri., Sat., Sun.:10 am to 6 pm
Mon.: 9 am to 4 pm (incl. Lunch break)
Venue: Impact HUB, Lindengasse 56/18-19, 1070
You can download a Flyer in German HERE.
Or in English HERE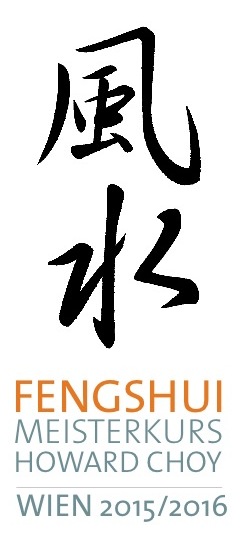 Please click on image above to download teaching program for 2015-2016
.Pasr Events.
.......................................................................................................................................................................................
One of the pleasures I get from teaching in Vienna is to get to see the city from a feng shui perspective, because Edith, my organiser often would put aside one day before the main course to do a feng shui study tour of different areas of the city.
In the coming 3-Days Xuan Kong Da Gua Master-Course in October, we will do the same again: 3 hours of theory and 3 hours of walking tour. This time, on the 24 October 2014, we will visit the "The Golden Mile of Vienna" – Graben - Kohlmarkt – Tuchlauben, a very trendy and exclusive shopping area in the centre of the Vienna, with many famous designer shops. We will focus on the different aspects of the shop, in particular the front entrance or the qi-mouth, by famous designers such as Hans Hollein, Otto Wagner and Adolf Loos, etc. Do come and join us, just drop us a line and we will get you registered for the day.
You can click the links below to download a flyer, either in English or in German, on the main course on Xuan Kong Da Gua Feng Shui, in the following 3-days (25 -27 October, 2014) after our walk-about.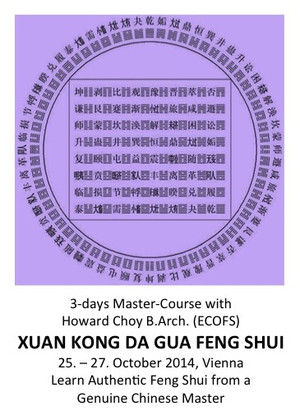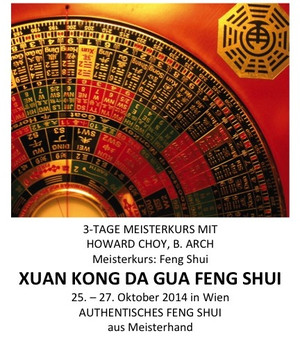 Master-Course on Xuan Kong Da Gua School of Feng Shui
Date: 25 -27 October, 2015
Venue: Impact HUB, Lindebgasse 56/ 18-19
1070 Vienna Austria
Inquiries and Contact details:
Feng Shui Consult, Edith Anna Feldhofer
Tel: +43/1/5870406
Mob: +43 650 70078888
office@fengshuiconsult.co.at
http://www.fengshuiconsult.co.at
In China there were six Xuan Kong schools during the late Qing and early Republic era, but nowadays only two Xuan Kong schools survived, one is the more popular and more well-known Xuan Kong Fei Xing (Flying Stars) School made popular by Qing Dynasty scholar Shen Zhu-Reng and the other is the more secretive and less well-known Xuan Kong Da Gua (XKDG) system promoted by Zhang Xin-Yin about the same time.
The term Xuan Kong stands for time and space and Da Gua stands for the 64 Hexagrams; the core of this system is based not on flying the stars but on using the Early Heaven Trigrams with the Luoshu numbers as applied to the Hexagrams to assess the Ji-Xiong (auspicious and harmfulness) of a situation, using the Coming Dragon, the Going Water, the Sitting and the Facing of a site as references.
Xuan Kong Da Gua (XKDG) has its origin in the square-circle diagram of arranging the 64 Hexagrams as passed down to Shao Yong via Chen Tuan. It formed a map for the Gua Qi distribution for a site, where the Earth Qi is considered to be the Ti (the Body) and the Heaven Qi is the Yong (the Usage). You will find them on the last four rings of our San Yuan Bazhai Luopan compass. These four rings are very important and are the "keys" to unlock the secrets XKDG Feng Shui and XKDG Date Selections.
The XKDG School of feng shui is different to but has a synergy with the Flying Star School of feng shui because when the Mountain Star and the Water Star in a Flying Star chart are combined together they form a Hexagram (Da Gua) as well.
XKDG is a very useful system when considering the relationship between the Coming Dragon (the mountain behind a site) and the Going Water (the water in front), the sitting and the facing of a site, which can help us how to select a site and how to orientate the building on the site. This system complements the Flying Star well and at the same time we can strengthen our theoretical understanding of Xuan Kong (time/space) feng shui.
Because in this system the compass reading of 360 degrees is divided into 64 Hexagrams of approximate 5 degrees each, it is a very detail and precise method. However the precision required may render it being impractical by some views, but nevertheless it is intellectually satisfying.
Students who wish to deepen their knowledge Xuan Kong feng shui should study this system to take their professional skill and knowledge to a higher level.
In this three-days advanced course we not only will teach you the basics theories of the XKDG system but also how to apply them it selecting a building or tomb site in practice. This is an unique opportunity for you to add another technique to your Compass ferng shui methods, but you will need to have a basic knowledge of how to recognize the Chinese characters for the 10 Heavenly Stems and the 12 Earthly Branches, as well as some of the fundamental concepts used in Feng Shui, like the Hetu, the Luoshu, Early and Later Heaven Trigrams and the construction of the 64 Hexagrams.
Before coming to his advanced course, you are required to learn to recognize and be able to write the 10 Heavenly Stems and the 12 Earthly Branches as well as the 8 Trigrams characters.
Past Events
....................................................................................................................................................................................................................................................
4-TAGE MEISTERKURS MIT
HOWARD CHOY, B. ARCH
Workshop Privat Feng Shui
Feng Shui für Gärten
11. – 14. April 2014 in Wien
Chinesischer Garten in Sydney, klicken Sie bitte auf das Bild zum download einer Pdf-Datei des Workshops in Deutsch.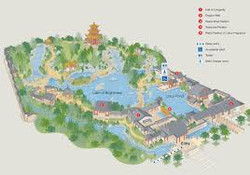 The Japanse Garden in the Garden of the World in Marzahn Berlin, if you click onto the image you can download a pdf file in English of the Garden Feng Shui workshop in Vienna from 11 - 14 April 2014.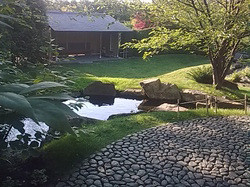 Feng Shui Tour of Vienna:

The new WU Campsu



Experience the Qi of Vienna!

10 April 2014, 10:00 - 17:00 Vienna
Please click HERE to download an English pdf file on the tour
Tagesworkshop: Der neue WU-Campu
Erleben Sie Wien und sein Qi!
10 April 2014, 10:00 - 17:00 Wien
Klicken

Sie HIER

,

um

eine

Pfd

-

Datei

der

Tour

herunterzuladen.

Master Course in Vienna 2013
Please click image below for a flyer for Master Course in Vienna 2013-2014 (in German)
Bitte auf das Bild klicken unten für einen Flyer für Master Course in Wien 2013-2014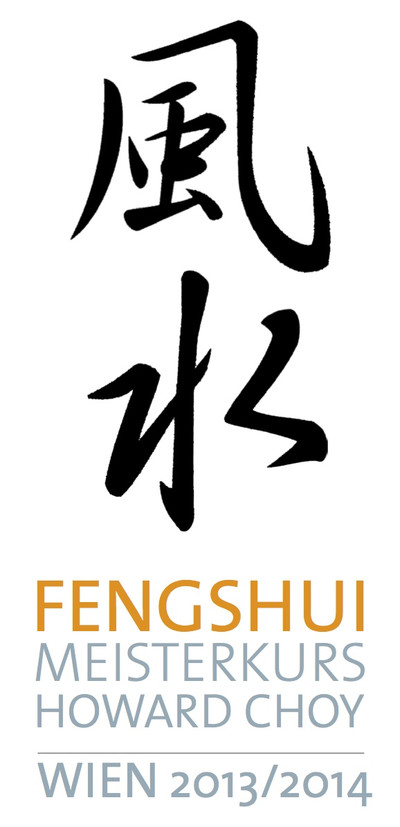 Meisterkurse für Expert Innen 2013
Die Weiterbildung und der kontinuierliche Austausch im Berufsstand der Feng Shui-BeraterInnen ist mir ein großes Anliegen. Daher veranstalte ich seit 2011 Fachfortbildungen sowie Meisterkurse mit Howard Choy.
Die Workshops bieten die Gelegenheit an der Seite eines erfahrenen Lehrers die Feinheiten und "handwerklichen Fertigkeiten" in der Anwendung von klassischem Feng Shui aus nächster Nähe zu beobachten und zu erlernen. Wir wenden sowohl Methoden aus Formschule als auch der Kompassschulen an. Teilnehmer sollten mit diesen Techniken vertraut sein.
Wir freuen uns auf einen anspruchsvollen und praxisbezogenen Workshop in der angenehmen Atmosphäre einer überschaubaren Gruppe (max. 20 Teilnehmern). Der Unterricht erfolgt in englischer Sprache mit deutscher Übersetzung! Kursort ist Wien.
HOWARD CHOY
ist australischer Architekt und internationaler Feng Shui-Dozent. Er wurde in China geboren und wanderte mit seinen Eltern in frühen Jahren nach Australien aus. In den 80iger Jahren erlernte er Feng Shui in Hong Kong unter persönlicher Leitung von Meister Ren Zhilin und kann nun aus 40 Jahren Erfahrung in seinem Beruf schöpfen. Choy ist der Begründer des Feng Shui-Colleges in Sydney und er arbeitet seit 1992 beständig mit chinesischen Universitäten insbesondere mit Prof. Wang Yude und Prof. Cheng Jian Jun hinsichtlich des dort angebotenen Feng Shui-Studiums sowie in der Forschung zusammen. Regelmäßig tritt er als Redner bei internationalen Konferenzen und Symposien auf. Als internationaler Dozent kann er auf fundierte und weit reichende Erfahrungen zurückgreifen.
Nächster Workshop mit Howard Choy:
25.—28. Oktober 2013
Feng Shui fur Einfamilienhauser
Folge-Workshop
11 -14 Marz 2014 - Feng Shui fur Garden.
http://www.fengshuiconsult.co.at/wb/pages/de/seminare.php
The 4-Days Master-Course for Residential Homes will be taught in English with German translation, you can download the English flyer for the workshop by Clicking HERE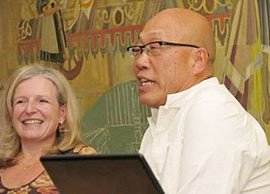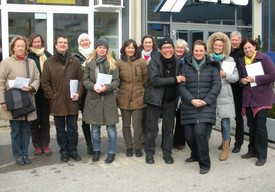 With my Organizer: Edith Anna Feldhofer Happy students from the previous workshop
4-Days Advanced Feixing and Bazhai Feng Shui
With Howard Choy, Vienna, 26-29 October 2012
Organized by Edith Feldhofer of Feng Shui Consult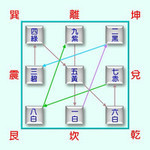 This 4-days course will start with a summary and an overview of the four basic patterns and the ten arrangements of the Feixing (Flying Star) charts, including new materials on the concept of "Shou Shan Chu Sha" (Receive Mountain and put up with Sha) on how to integrate the Star qi with the Form qi. Also, we will look at the working of two alternative Bazhai (Eight House) systems, namely the "Bazhai Minging" and "Yangzhai Sanyao", where the reference points for calculating the distribution of the 8 Wandering Stars are different.
It is assumed that the potential participants of this Master Course has completed some basic trainings in Flying Stars and Eight House, and know how to construct a normal star chart, as well as how to determine the directionality and the "Heaven's Heart" of a chart.
The course is organized in 6 parts:
Part I: An overview mentioned above.
Including the following topics if they are not covered adequately before in your own study:
How to determine the directionality of a house
Prosperous Sitting and Prosperous Facing
A line of Fiery Pits (A Reversed House)
Double Stars Arriving at the Facing Palace
Double Stars Arriving at the Sitting Palace
Facing Period Star in Prison and Usage (Di Yun)
Yin Yang Adding Up to 10
Fu Yin and Fan Yin
Fu Mu (Parent) San Ban Gua (SBG)
Lian Zhu (A Continuous String of Pearls) SBG
Seven Stars Robbery
Castle Gates Two Palaces
Replacement Stars - their theories and practice
Part II: Star chart analysis.
2.1 Strategy for star chart analysis.
2.2 Methodology for star chart analysis.
2.3 Details for star chart analysis, including how to analyze and give judgments to the nine stars with Wuxing principles.
2.4 The theory and practice behind the "jiehua" cures.
2.5 Sample case studies from the old masters, including how to use two charts for the same house.
Part III: Master Luo Shi-Pang's advance methods on how to assess the influence of the external qi onto the internal qi field of a star chart. This is new material available for the first time.
3.1 Naqi and Naqi openings.
3.2 How to calculate and assess the influence of external time qi and form qi onto the internal qi field of a star chart.
2.3 Sample case studies from the old masters using this methodology.
Part IV: San Yuan Xuan Kong Feixing Water Methods.
4.1 Master Shen's Water Method.
4.2 The "Reversal" Water Method.
4.3 The "City Door" (Cheng Men) Water Method.
4.4 The "Seven Stars Robbery" Water Method.
Part V: Advanced Bazhai systems including the four alternative systems and how to use two of them in practice.
Part VI: On-site application with a real case study of a reasonable level of complexity, so the participants will gain a first hand knowledge on how a working consultant would use Flying Stars in practice.
If you already have a good grasp of the Flying Stars and are looking for the "finishing touch" with a practicing Feng Shui Architect, then this is a perfect course for you. By the end of the course we hope to remove all the confusions you have in the past about the two major Compass schools of Feng Shui.
You are also welcome to bring in your own projects for a second opinion and we will use them as part of the teaching practices, please inform the organizer before hand with full documentation (eg. Google Earth pictures, onsite pictures, floor plans and directional reading, etc) for a speedy feedback.
Students from different schools are all welcome!
For Further inquiries please contact:
Edith Anna Feldholfer
P: +43 650 700 7888
F: + 43 1 587 0460
M: office@fengshuiconsult.co.at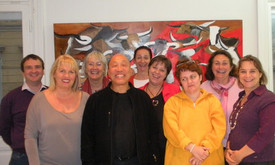 A 4-Days Master Course Workshop on Business Feng Shui
Feng Shui and Retail Shops with Howard Choy B.Arch
Feng Shui Architect and Principal of European College of Feng Shui (ECOFS) Brlin
21-24 October 2011
In this first master class in Austria with Howard Choy, we will look at Feng Shui and the design of retail stores, where you can learn the advanced techniques of business Feng Shui to help the storeowners to achieve an optimum and attractive atmosphere that will increase customer patronage and sales revenue.
As usual we will begin the workshop with a brief introduction to the subject and visiting the shops. In the following days, we will work on the Feng Shui analysis, discuss its impact on the particular business and develop some design approaches for discussions and arrive at a final set of suggestions for presentation to our clients.
At the workshop we want to convey how different requirements can be considered with different retail concepts and arrive at a design that is optimal and individual, and thus create the best conditions for the context of the site and for the storeowners.
The workshop provides tan opportunity to observe up close and learn from an experienced teacher, the intricacies and "craftsmanship" in the application of classical Feng Shui. We will use both the Form and the Compass schools methods so some knowledge of Feng Shui is required from the participants.
You can look forward to a demanding and hands-on workshop in a pleasant atmosphere of small size study group of up to a maximum of 20 participants, all teaching will be done in English with German translation.
You can down load a pdf file in German here.