Courses and Workshops
Australia
2017 THE YEAR OF THE FIRE ROOSTER
DOWN UNDER WITH HOWARD CHOY
EVENT 01
A 4-Day Master Course with Howard Choy B.Arch.
Please clink onto image below for all the details.
EVENT 02
The First Symposium of the Academic Journal of Feng Shui (AJOFS) – 2017,
Date: Sat. 13th and Sun. 14th May 2017.
Venue: University of Technology, Sydney Australia.
Theme: "Canopy and Chariot – Chinese Concepts of Heaven and Earth in the Feng Shui Tradition.
Cost: Almost next to nothing, you can afford it!
The following rising stars in the Feng Shui world and Post-Modern Grandmasters will reveal to you their many years of research, in their hidden Ivy Towers, the most inner secrets of this mysterious and intangible cultural heritage of China, in two short days at a cost of a cheap i-phone.
1) Dr. Hong Key-Yoon – University of Auckland.
2) Dr. Derham Groves – University of Melbourne.
3) Dr. Micahel Paton – University of Sydney.
4) Dr. Michael Mak – University of Newcastle.
5) Dr. Stephen Skinner – Feng Shui Grandmaster
(Gee! They are all bloody Doctors!)
6) Mr. Tyler J Rowe – TCM Practitioner (Another Doctor!)
7) Mr. Howard Choy – Feng Shui Architect (Phew! Just an Architect!)


….and many more of course, like Grandmaster Yap Cheng-Hai's daughter Boon Yap, who will reveal, the never before, Feng Shui secrets passed down through her family. You cannot, simply not possible, ask for more. It will be better than any Feng Shui Extravaganzas or boring conferences you will ever attend in your life. Come and enjoy the warm sun and the funny Aussies with their BBQ jokes!
See you there!
Please contact Tyler J Rowe for registration: tyler@chinadragon.com.au
Past Events
......................................................................................................................................................................................
MASTER COURSE WITH HOWARD CHOY 2016
SYDNEY AUSTRALIA
Due to health reasons I could not make it back to Australia in 2015, but everything is back on track and I will be home again to see my children and run the same workship schedule for 2015, in Sydney, just after the Chinese New Year: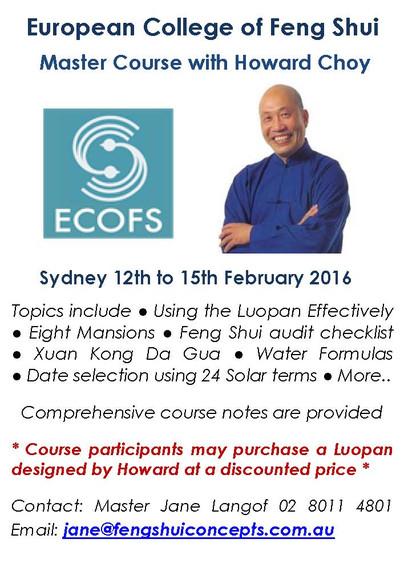 To download a pdf file for details, please click onto the image above.
Past events
.........................................................................................................................................................................................
The Theory and Practical Use of the Xuan Kong Bazhai
Combined Luopan Compass
Friday 17th April to Monday 20th April 2015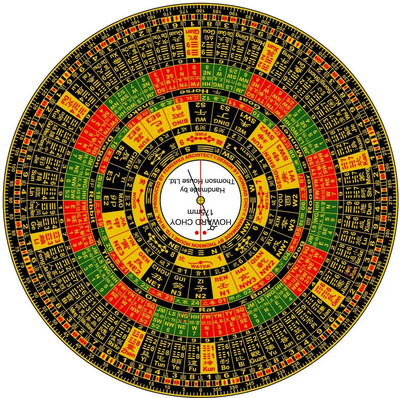 Four-day Master Course
This intensive master course will provide the theory and practical information to enable you to understand and effectively use every ring of your Xuan Kong Bazhai Luopan.
As a course participant you will learn the use of the following Liqi Pai techniques:
· "Longmen Baju" or the "Eight Sets of Dragon Gates" also known as the "Early and Later Heaven Water Methods".
· The use of the 24 Mountains in Xuan Kong Feixing calculations, along with Howard's comprehensive checklist of how to carry out a Flying Stars audit and analysis with the Luopan Compass.
· Date selection for building construction and renovations, using the 24 Solar Terms.
· The Bazhai Mingjing and the Yangzhai Sanyao Eight Houses Methods (Eight Mansions), with theories and practical applications.
· The theory and the use of the Replacement Stars in Xuan Kong Feixing.
· The theory and the use of the Xuan Kong Da Gua system, including how to obtain the "One Pure Gua", "Mutually Generating" and "Adding Up to 10" arrangements.
You will be provided with a comprehensive set of course notes.
Course participants have the opportunity to own a Luopan designed by Howard Choy and hand-made by Thomson House in Hong Kong at a discounted price of AU$300 (regular price AU$400).
Pre-requisite knowledge and who should attend
This course is suitable for practitioners and students with knowledge of Feng Shui fundamentals. The course is intensive and covers four Feng Shui systems and date selection methods – therefore your serious commitment to study is required.
Course Location
Sydney, Australia
Course Fees
Four day master course: Full price $1580 or Early Bird fee $1480
A non-refundable deposit of $180 is required to guarantee your place, as numbers are limited. To qualify for the Early Bird discount, fees are payable by 1st Feb 2015.
Contact for more information
Jane Langof, Feng Shui Concepts
Email: jane@fengshuiconcepts.com.au
Telephone: +61 412 002 757
You can download a pdf file for the course by clicking onto a sktch of Howard by Greg Winder below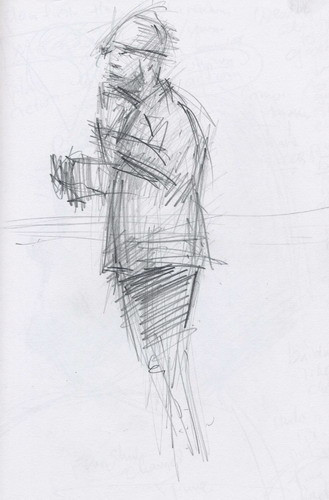 Why study with Howard?
"Howard's knowledge is unparalleled. He is perhaps the only teacher of Feng Shui equally at home in practical application and academic research. He is also one of the few who understands the Chinese classics and is able to explain them not just in translated English but in Australian! His sense of humour and passion to answer any question or solve any problem, paired with his uncanny insights make him the most influential local master of his generation. It would be negligent not to take any opportunity to learn from Howard, as those who do, never leave with their skill and art unchanged." Tyler J Rowe
"Howard is a very patient and generous teacher whose step by step overview of how best to implement specific formulas into your Feng Shui consultations is not only practical, but ensures you take away the tools you need to incorporate his teachings into your everyday consultancy services." Carolyn McCallum
"Thank you Howard for a fantastic five days. I am only new to Feng Shui and I found the course easy to follow. Howard's study notes and teachings were brilliant and all of the examples were greatly appreciated. I look forward to studying with Howard in the future." Kelly Ingram
"Howard is an amazing teacher with an abundance of knowledge and skills which he openly shares with the class. Howard's teaching style is relaxed, varied and enthusiastic, providing practical excursions, clear presentation and invaluable handouts and knowledge. I look forward to doing many, many more classes with Howard." Jill Lynch
LET'S LEARN SOME NEW TRICKS IN THE NEW YEAR!
2014 Master Courses Downunder.
Master Courses on Xuankong Feixing (Flying Star) and
Bazhai Pai (Eight Houses School) Feng Shui with Howard Choy
Friday 7th February to Tuesday 11th February 2014
You can download a pdf file for more details by click onto the Bazahi formation diagram below: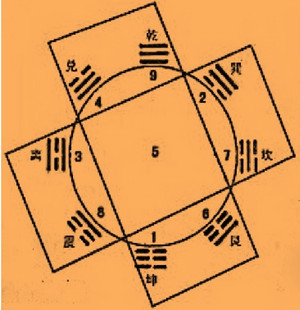 Diagram above shows how the East Four and West Four groups
came about using the Yili principle (principle of changes):
"The Early Heaven is the Ti and the Later Heaven is the Yong"
Contact for more information:
Jane Langof, Feng Shui Concepts
Email: info@fengshuiconcepts.com.au
Telephone: +61 412 002 757
The Australian Election 2013
Believe or not, I predicted Tony Abbott's Liberal-National coalition going to win the election back in February 4th, during my CNY presentyation. If you want to know how I did it please click picture below: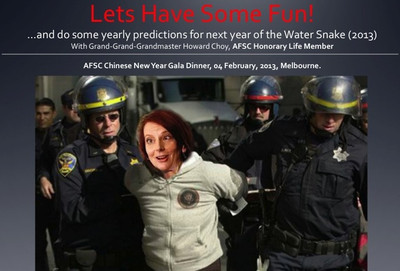 My 2013 Trip Down Under.
Apart from a great workshop organized by Jane Langof with a bunch of fabulous students on Feng Shui and Residential Development (see photo below), I gave two talks to celebrate the Chinese New Year of the Snake, one for the International Feng Shui Association Australian Chapter and one for the Association of Feng Shui Consultants. You can download a pdf file of my ppt presentation here by clicking onto the title:
IFSA CNY Presentation: How Residential Feng Shui was used in Traditional China - A case study based on the traditional residential dwellings in China's Shanxi Province.
AFSC CNY Presentation: Lets Have Some Fun!...and do some yearly predictions for next year of the Water Snake (2013) With Grand-­‐Grand-­‐Grandmaster Howard Choy, AFSC Honorary Life Member!
Howard Choy on the eve of CNY – Kung Hei Fatt Choi!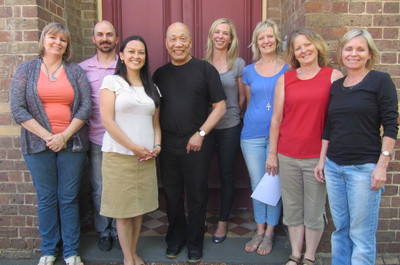 From left to right: Jan Leese, Tyler Rowe , Jane Langof, Howard Choy,
Andrea Stoltenberg, Jill Lynch, Luise Leggatt and Jeannine Stephens.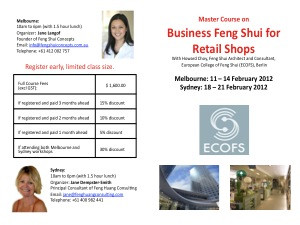 My first Feng Shui workshop in Australia since leaving Sydney, organized by Jane Langof in Melbourne and
Jane Dempster-Smith in Sydney, I hope you can join me, please click the above image to download pdf file.
You can also see the details from the following webpage:
Jane Dempster-Smith
http://www.fenghuangconsulting.com/news-events.html
Jane Langof
http://www.fengshuiconcepts.com.au/howard-choy/